Experience the Ionian Islands like never before
While spending your holidays at Villa Mavrikia it would be a great opportunity to see the greek ionian islands from their best angle,by chartering an elegant sailing yacht.Swim in crystal clear waters at our clean beaches and feel the heat and the sand under your feet.
You will have the opportunity to live a wonderful sailing experience with a licensed skipper on board at all times.Visit different islands everyday and enjoy the magical blue sea and sun of the ionian.
Snorkeling,sunbathing,fishing is a small number of the possible activities while you cruise with us.
You can have your personal guarantee  for high quality,comfort and safety.
Availability
Our sailing yacht will be available to you at all times and any day you desire by choosing Villa Mavrikia as your home for the summer holidays!
Visit our beautiful islands around Corfu like paxos island and erikousa at the north of Corfu island.Spent the night or nights on board and have a full experience of the yacht life! Chartering our yacht will also give you a chance to upgrade your sailing skills and experience.
Check availability at least, one week ahead of departure with skipper George Nikokavouras.
Feel free to call at +30 6938992923 or email at gnikoka@gmail.com for more information.
Beneteau Cyclades 434
Beneteau Cyclades 43 is a good choice for the family cruise. The boat is a beamy, twin-steer yacht, with heaps of room and an emphasis on simplicity. Easy to sail and easy to clean and maintain seem to be the ethos of the Cyclades series.
No traveler system, outboard chain-plates and no teak decking are indicative of the different tack Beneteau has taken with this yacht. The cockpit is huge and great for entertaining, and there's easy access from the transom and a big central table. The decks are wide and uncluttered with all lines leading aft. The Cyclades 43.4 interior features a four cabin two-head layout and comes with full-battened main-sail.
Steering Double Wheel-rudder (1 Mast)
Engine Power 54 HP (1 Diesel Engine)
4 Cabins / 8 + 2 Berths license for 10 persons Transformable table in salon / 2 Toilet(s) / Furling Genua / Battened Main Sail / GPS Plotter outside cockpit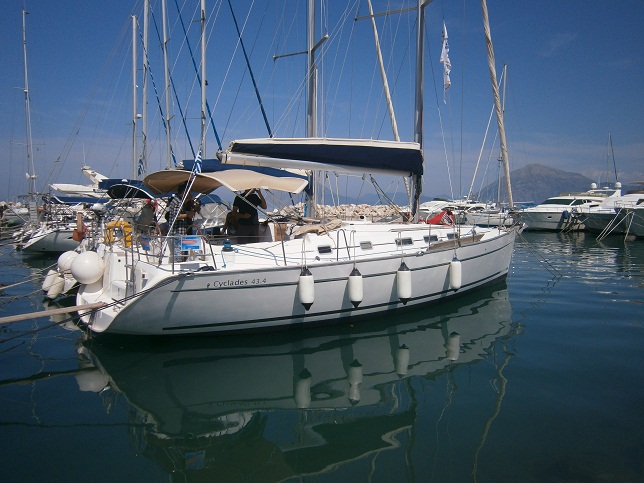 You have the unique opportunity to visit the magnificent Corfu beaches using the offered speedboat 5.30m. & 90hp which is included at the villas benefits.
You can choose your own destination and organize your private day trip.
The villa's owner will be your captain. Allways available to satisfy you in the best possible way.