CHEF MENU ON DEMAND
Corfiots are known for their love for cooking and keeping their culinary traditions alive. We want to offer you a taste of the traditional cuisine of Corfu, made with fresh, organic ingredients from local farmers and our own garden. Our chef will make sure to serve you a selection of Corfiot and Greek dishes, all made fresh and with the best ingredients.
BREAKFAST
Breakfast is the most important meal of the day cornerstone of an energetic body. During your stay at Villa Mavrikia, you can have your breakfast made for you as a one-time occasion or on a daily basis. Breakfast is served after 9 o'clock and it is made with local, organic ingredients. We list some optional breakfast choices, but you can also adjust the menu to your own needs after consulting with the chef:
Cereal, fresh fruit and nuts with yoghurt and/or milk.
Fresh eggs boiled or fried. Whole wheat bread with Corfiot butter and marmalade.
Whole wheat bread sandwiches with tahini and local honey. Fresh fruit.
Pancakes with honey and fresh fruit.
Omelet with ingredients of your choice.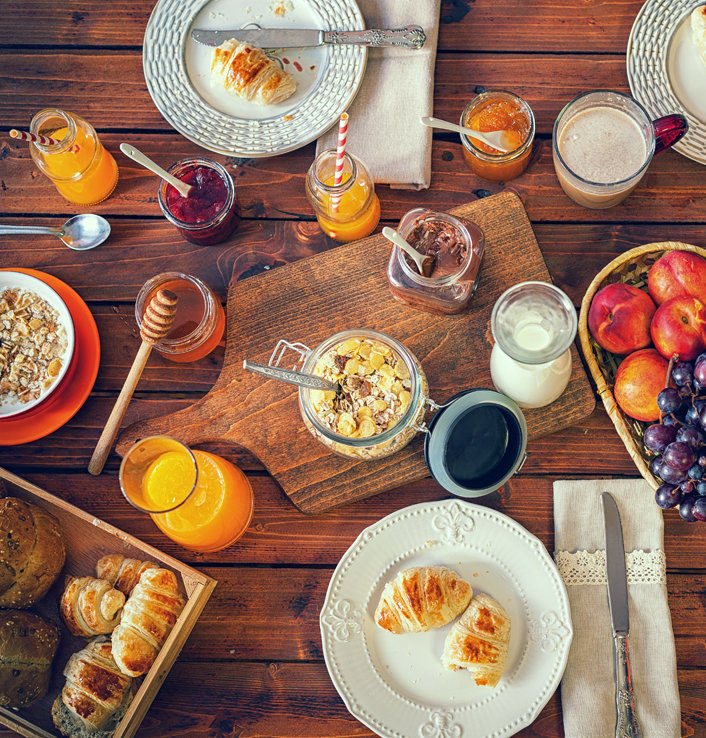 Along with your breakfast, you will also have fresh juice, coffee, tea or the beverage of your choice.
DINNER
In Greece, dinner is when the whole family gets together and enjoys some quality time. As your hosts, we offer you the option to have dinner made for you daily or on demand. Dinner is served at 8 o'clock. As always, the menu includes traditional Corfiot or Greek dishes and everything is made with local, organic ingredients. We list some optional dinner dishes, including vegetarian one's, and you can always ask the chef to either adjust the recipe to your needs or cook something of your choice:
Sofrito (traditional Corfiot dish with veal and rice)
Pastitsada (traditional Corfiot dish with veal and pasta)
Barbeque: Steaks and/or chicken
Stuffed vegetables (vegetarian)
Traditional pies: cheese pie, spinach pie (vegetarian)
The dinner will also include Greek salad, or any salad of your choice.